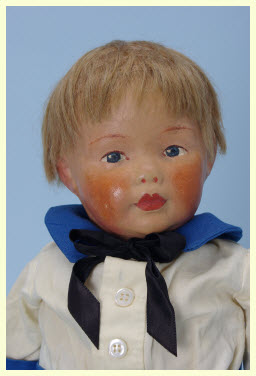 Vintage & Antique Dolls
New Address - See Contact Menu


If you are looking for Madame Alexander, Effanbee or other vintage or antique dolls, Chip Barkel Antiques is your best source for quality dolls. I offer a wide variety of antique, vintage and collectible dolls for sale to customers in Toronto, across Canada and the United States, and internationally. I am a member of UFDC, United Federation of Doll Clubs and I am a regular advertiser in Antique Doll Collector magazine.
Browse online through my extensive inventory and you'll likely see many dolls of interest, each with a unique history. I regularly carry Door of Hope, Simon and Halbig, Kestner, Kammer and Reinhardt, Schoenhut dolls, and occasionally doll artist and UFDC souvenir dolls.
Whether you are a serious doll collector or just looking for a unique gift, I can help you find you find a special doll that you will treasure. If I don't currently have what you're looking for, please let me know and I'll be sure to keep your want list on file. Twelve times a year, I offer a surprise sale. Check back frequently and save.
I look forward to doing business with you now and in the future.
Contact me at Chip@ChipBarkelAntiques.com or 416-463-6369.
| | |
| --- | --- |
| | My friends, Lynn Murray, and her sister Anne Thornton-Trump make wonderful reproduction German Santas, Belsnickles and holiday items in their studio in rural Ontario, Canada. Visit their blog and treat yourself to some holiday magic any time of the year. Two Sisters Studios |
| | Tlc Doll Tours. The foremost company conducting all-inclusive fully-escorted tours in Europe for doll, toy and Christmas collectors. Celebrating 20 years of tours in Europe and the UK. |
| | |
| --- | --- |
| | A friend in New York, Lisa Zador, is an artist of Curious Portraits. Her photography of her original artwork is original, fun, and full of humanity. Take a look. Great gift ideas for young and old. |
| | |
| --- | --- |
| | David Schump creates Tramp Art using salvaged materials to create textures and patterns and then piecing them together to make beautiful yet utilitarian objects. While relatively unknown, Tramp Art was a wide-spread form of folk art that flourished in America between the 1870s-1940s. |
Website Updated: 10 March 2014